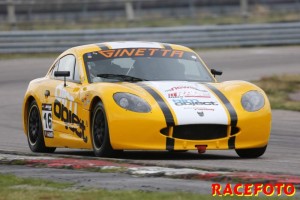 Dennis Strandberg started from pole position in race 1 but it was the G20 of Mikael Mårthen which made a tremendous start from sixth on the grid – taking the lead ahead of the faster G40 cars. But it only lasted two corners before a clash with Strandberg sent Mårthens red Ginetta into the tyre wall. Before that Jeff Steinmetz was hit from behind in the first corner and couldn´t get further. With two accidents at the first lap the Safety Car was brought out and it took almost half the race before the green flag appeared. Strandberg and Morten Dons battled for the win during the remaining laps, the Dane making a successful pass on Strandberg on the 13th lap. Behind Anders Gustavsson in the second Magic Racing G40 held third until the end, with Niclas Lindström making ground  but couldn´t get close enough to attack. Bror Ellfolk finished fifth ahead of the best G20, driven by Daniel Axelsson. Stavros Tentis followed with Andreas Ekwall third in the G20 class.
There was more drama in the second race as pole sitter Morten Dons stalled at the start and was hit from behind by Niclas Lindström, starting third. Dons could continue with minor damage at the rear section, while the unlucky Lindström had to retire with broken suspension. Strandberg drove away in the lead but Dons was a threat at the end, having passed almost all the field on his way to second. Anders Gustavsson took another third with Ellfolk fourth and Mårthens fifth – and winner in the G20 class. Steinmetz took second spot among the G20´s and Axelsson third.
Next rounds will take part at famous Spa-Francorchamps, together with the British Ginetta GT5 Challenge. At least 14 Ginetta´s are expected to go from Sweden to meet about 25 cars from England… Both championships will run together for three races but will have their own classification.